This article by @raj808 is part of a creative blockchain investigation series. Learn more about the #dappexplorer project here.
---
Writcoin Dapp Presentation – Creativity Powered by Blockchain
The Writcoin smart media token was inspired by one of the sndbox 
weekly questions
 which asked us to imagine what our SMT could look like. It was pitched as very much a theoretical excersie but as I wrote the post I became fascinated with the possibilities of my idea. To read more about the inception of my SMT idea please follow the link to this 
post.
To summarize Writcoin, it will be both a community and an SMT which helps build value for that community. The community will be focused on the creative writers (poetry & fiction) of steemit. The SMT will be used as a mechanism to forge partnerships with mainstream publishing and create value for stakeholders. Finally the Dapp will provide an easy solution for posting across many platforms while addressing issues around first publishing rights.
Please CLICK the title image below to read the presentation…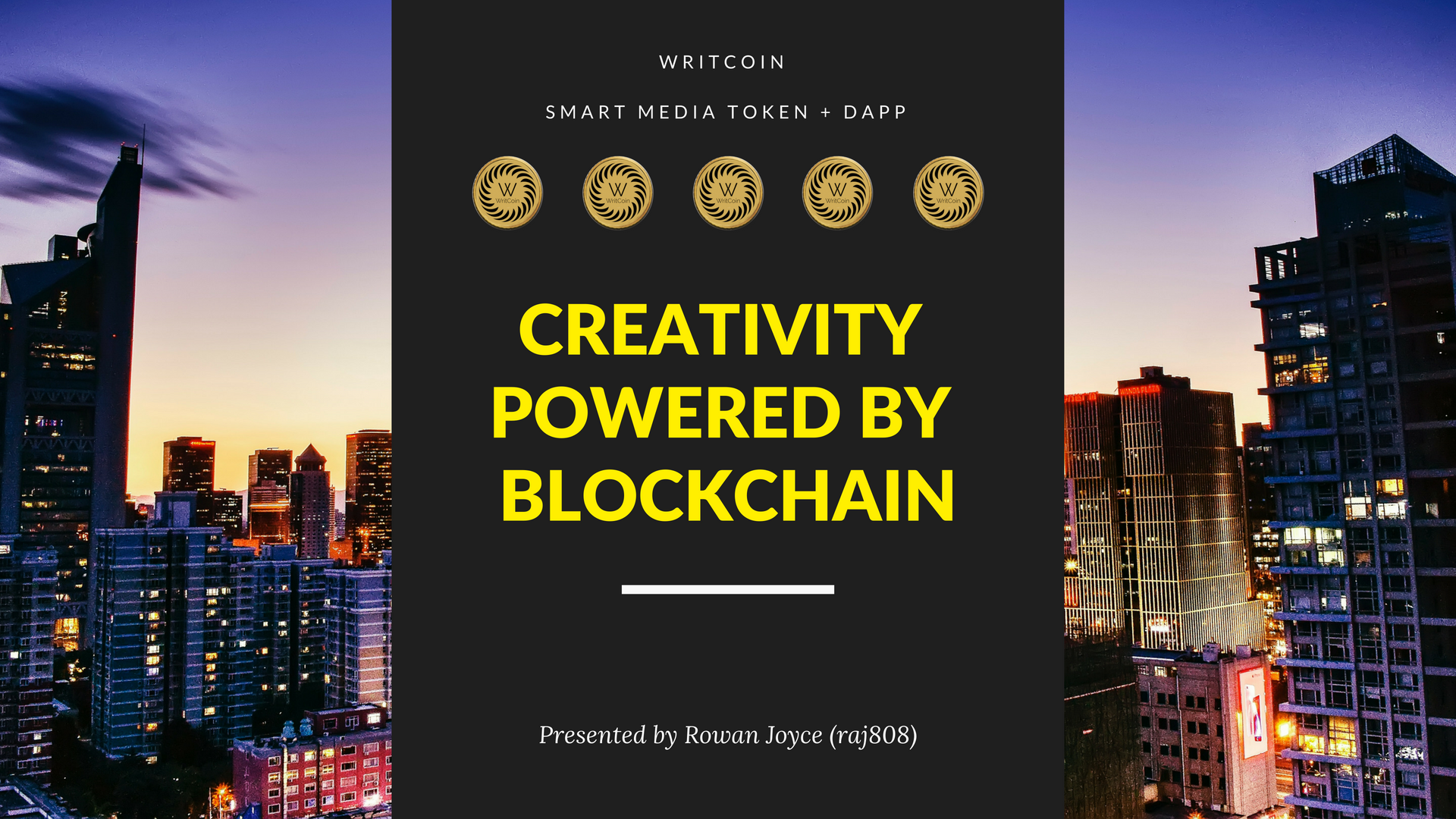 This presentation is meant as a theoretical pitch to investors and should be considered a first draft in explaining the dapp element of this idea. However, I am keen to develop this concept and am very interested in speaking to anyone with blockchain/dapp development knowledge. I shall be seeking guidance for this project at Steem Fest 3 and hopefully will be able to make it a reality.
Many Thanks for Reading
---
This post was authored by @raj808, a member of the sndbox incubator. Learn more, follow @raj808 or begin a conversation in the comment section below.
---
Empower artists, writers, musicians, non-profits and community initiatives – delegate Steem Power to @sndbox (using the links below) or follow our curation trail. Learn more about Sndbox – watch our introduction, here.
Follow us on Twitter, YouTube, and our magazine The Creative Crypto / @creativecrypto